Lynden Sculpture Garden Residency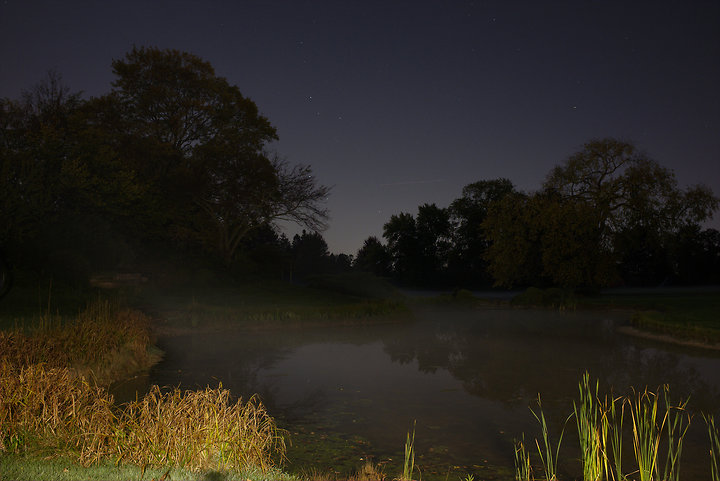 From mid-2013 to mid-2014, I engaged in a one-year seasonal residency at the Lynden Sculpture Garden in Milwaukee. This residency culminated in exhibitions and a publication.
When I was seventeen, a friend took me in the dead of night to a hilltop in North Haven, Connecticut. There we found a tall copper tower in the woods, surrounded by industrial and occult artifacts. It was scary and inexplicable. Years later, I discovered that we had been trespassing on the land of Donald Lippincott. As Lippincott's foundry created so much of the sculpture at the Lynden Sculpture Garden, I would like to follow this thread of teenage terror into this residency.
Dan Torop will be making seasonal visits to the Lynden Sculpture Garden beginning in the summer of 2013 to investigate the landscape's history and the passage of seasons, animals, and sculptures across it. The "frozen period" between Mrs. Margaret Bradley's death in 1978 and the opening of the sculpture garden to the public in 2010 will serve as an exemplar and inspiration. He will seek out early mornings, late evenings, nights, and Thursdays, when the site is otherwise closed to the public, as ideal times to create work. He will carry on a dialog with staff and long-time visitors to the grounds to further understand this place.
Mindful of Aldo Leopold's close observation of a nearby landscape in A Sand County Almanac, Torop will traverse and note the life of the Lynden grounds. This glacial prairie landscape is tied to a history of settlement and westward progression, and is an exemplary experiment in domestication and augmentation. For perspective, he will visit regional golf courses designed by Langford and Moreau, who created the Garden's topography. He will consider the site in relation to the Bradley family's history of manufacturing in Milwaukee.
"In The Amnesia Pavilions," Torop observes, "Nicholas Muellner contrasts photographic modernism's strategically clinical tone with the intense emotion of its antecedent, pictorialism. Muellner describes his own desire for the humane content of the pictorialist project. The late modernist sculptures at Lynden, set in a rolling pastoral Midwestern/mid-English topography, speak to a similar dialectic."
Torop's residency will result in a series of photographs made on the grounds and a publication that includes an essay on the inter-relationship of the landscape, sculpture and tree collections, invasive species, and the maintainers of and visitors to the site. The images and text will be exhibited at Lynden.
Models for Torop's work include the structured historical quotations of Paul Metcalf, Chris Marker's diary/documentary Sans Soleil, and William Carlos Williams's poetic narrative history In the American Grain. He will research the materials of the landscape and sculpture from sources such as Large Scale: Fabricating Sculpture in the 1960s and 1970s by Jonathan Lippincott.
"It is important to me to be making this work in the environs of Milwaukee, a city with a strong and independent visionary artistic culture," says Torop. "I have been inspired by contact with the Milwaukee cultural milieu, and am eager for the further interaction which the residency will provide. I see the Lynden Sculpture Garden and its programming as merging an institutionally supported art practice with a determined outsider tradition, while suggesting that neither precludes the other."